china.org.cn:Famous artists celebrate 70th anniversary of PRC's founding
来源:中国网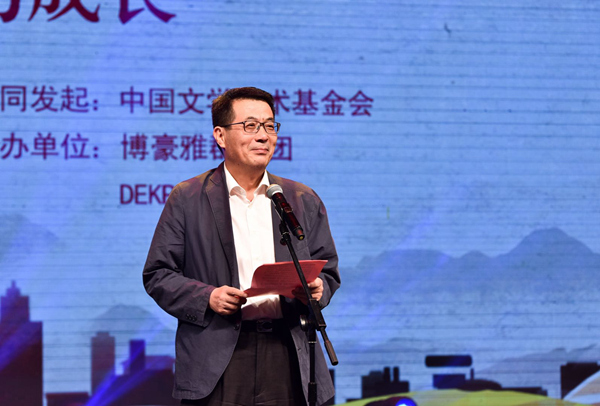 To celebrate the 70th anniversary of the founding of the People's Republic of China (PRC), and call for more attention to be paid to Tibetan orphans and poor children, an art show was staged by the China Soong Ching Ling Foundation (CSCLF) and the Shengji Art School on May 10 in Beijing.
Attending the event were famous veteran artists such Tian Hua, Chen Duo, Bian Xiaozhen and Ye Peiying, as well as around 500 representatives of government, donating enterprises and cooperative organizations, and student representatives from Beijing's middle and primary schools.
In his opening remarks, Jing Dunquan, vice chairman of the CSCLF, talked about the importance of educating ethnic minorities. He said that promoting the education of ethnic minorities is not only related to the growth of minority youths, but also plays an important role in strengthening national unity and maintaining social stability.
The CSCLF set up the Shengji Fund in October 2015 to help Tibetan poor children and orphans in Beijing's Shengji Art School receive a good vocational education. According to Jing, "the fund helps disadvantaged young people from ethnic minorities in Tibet, Qinghai and Sichuan come to Beijing to receive free education. This is so that they can establish a correct outlook on life and the world."
Since 2008, the Shengji Art School has enrolled 94 children from poverty-stricken areas and provided them with a free secondary vocational art education. Some have successfully completed their study and went on to further education.
The art show was divided into four chapters: "My Motherland," "Ten Years of Public Welfare Endeavors," "Grateful Heart" and "Towards a Glorious Future." The show opened with a choral rendition of "My Motherland", a popular song written for the 1956 Chinese movie "Battle on Shangganling Mountain." More than 100 students from Beijing Shengji Art School, CSCLF's Peace Angel Art Troupe and the High School Affiliated to China University of Geosciences sang the song, expressing their love for the motherland.
Famous soprano Ye Peiying, took the stage to perform a rendition of her popular hit, "I Love You, China." The octogenarian said, during an exclusive interview with China.org.cn, that it was her obligation to support the art show.
"China is a big family of many ethnicities. Tibetan children are one of our offspring. The older generation feel that it is vital to provide them with a sound environment so they can grow up healthily. After 70 years of development, Chinese people are enjoying a good life. We must make sure every single child can enjoy the same benefits," Ye said.